Focus and Scope
Insight - Automatic Control highlights the following aspects:
1. Cutting-edge technology: Mainly reports on the new trend of global automation technology development, new technology, new products and experience as well as understandings in various application fields.
2. Frequency conversion energy saving, soft-starting system: Inverter, soft start system design, product selection, debugging and maintenance, report the actual system engineering, improve the reader's ability to solve practical problems.
3.PLC and man-machine interface control system: The application of PLC and man-machine interface in power plant, coal mine, water plant, metallurgy, paper, machinery, petrochemical, chemical, textile, building materials and other industries is reported.
4. Sensor detection system: The application cases of sensors and transmitters in various industries are reported, and the scheme, engineering design, fault diagnosis and treatment methods are proposed.
5. Intelligent instrumentation: To report the successful application of modern instrument and instrument mature technology in various industrial fields, experience in installation, debugging and troubleshooting of instrumentation, the problems and solutions of various instruments and systems in use by engineers and technicians.
6. Solutions: Report on solutions about industrial automation control system (including DCS control system, embedded system, field bus and other automatic control system) used in mechanical electronics, petrochemical, metallurgy, electricity, communications, environmental protection, aerospace, municipal construction, transportation, construction and other industries (automatic control engineering, design).
Section Policies
Articles
| | | |
| --- | --- | --- |
| Open Submissions | Indexed | Peer Reviewed |
Peer Review Process
All papers submitted to Journal of Insight-Automatic Control are subjected to a stringent peer review process. This is to uphold the high quality of papers published in IAC and ensure that the reporting of research work is truthful and accurate.
Upon submission, the article is reviewed by IAC in-house editors to assess its suitability for the journal based on the editorial policy and procedural guidelines.
The Editor-in-Chief (EIC) carefully evaluates each manuscript to determine if its topic and content are suitable for consideration.
The accepted manuscripts are then assigned by the EIC to the associate editors according to their respective areas of expertise.
The associate editor selects reviewers from the editorial board or external reviewers who are suitably qualified to assess the paper.
Reviewers are asked to evaluate the manuscript's originality, methodology, contribution to the literature, presentation of results and support for the conclusions, and appropriate referencing of previous relevant studies
Post-evaluation by the reviewers, the manuscript is sent to the associate editor who makes one of the following recommendations: accept, accept with minor revision, or reject.
The manuscript is then passed to the EIC who makes the final decision.
If EIC suggests minor revisions, authors are given a maximum of 7 days to revise and resubmit the article.
If EIC suggests major revisions, authors are given a maximum of 14 days to revise and resubmit the article.
After re-submission of the revised manuscript, the above steps are repeated before the paper is accepted for publication.
Authors of rejected submissions are advised to make an appeal in writing to editorial-iac@piscomed.com.
Written appeals should include specific reasons for the appeal and point-by-point response to the reviewers' suggestions and criticisms.
Decisions made on appeals by the EIC are final and no further considerations will be made.
Open Access Policy
This journal provides immediate open access to its content on the principle that making research freely available to the public supports a greater global exchange of knowledge. All published content is distributed under the terms of the Creative Commons Attribution-NonCommercial 4.0 International License (CC-BY-NC), permitting all non-commercial use, distribution, and reproduction in any medium under the condition that the original work is properly cited.
Editorial Policies
The journal will not accept manuscript that has been published or is under consideration for publication in any other journal. The author needs to notify the journal if the data presented in the manuscript has been ever presented in conferences.
Conflict of Interest
The author has to provide the authorization of no conflict of interest with any financial body or funding agency that might influence the results or interpretation of their manuscript. All authors, members, reviewers and editors must disclose any association that poses a conflict of interest in connection with the manuscript. The corresponding author must download and complete the ICMJE Conflict of Interest Form on behalf of all the authors regarding to potential conflicts of interest, and submit the form in Step 4 during the article submission process.
Language
All articles should be written in English—either British or American as long as consistency is observed. SI units should be used. If you are not a native speaker of English you may want to utilize the professional language editing service provided by us before submitting the final version.
Withdrawal of Manuscript
If you decide to withdrawal your manuscript after it has been accepted (but not yet published), a processing fee of USD 200 is chargeable upon withdrawal.
Plagiarism Detection
The journal will not accept manuscripts that are plagiarized in any circumstances. The journal will verify the originality of the submitted manuscripts with iThenticate, the plagiarism detection software.
If a manuscript uses a text copied directly from another source, this text must be written in quotation marks and original source must be cited. If any kind of plagiarism is detected during the review process, the manuscript will be rejected.
Authors and researchers can also use iThenticate to screen their work before submission by visiting http://www.ithenticate.com.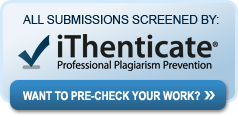 Code of Ethics and Practices
PiscoMed Publishing requests all members involved in the journal publishing process to adhere the "Code of Conduct for Editors" and "Code of Conduct for Publishers" as stipulated by COPE (Committee on Publication Ethics). The guidelines define the best practice in the ethics of scholarly publishing, aiding the journals and publishers to achieve this.
Units of Measurement
Units of measurement should be presented simply and concisely using System International (SI) units.
Article Processing Charges (APC)
PiscoMed publishes all its journals in Gold Open Access format. The scientific community and the general public have free of all restrictions on accessing (e.g., subscription) and free of many restrictions on using its contents as soon as it is published online. PiscoMed does not require readers to purchase any form of subscription to view online versions of the journals. In order to defray our editorial and production costs, authors of the accepted articles are required to pay the article processing charges (APCs). The charges will come from authors' institutes or research funding bodies.
The APC for Insight - Automatic Control is as follows:
| Journal | APC |
| --- | --- |
| Insight - Automatic Control | US $800 |
Editorial Board
Click here to see the editorial board.